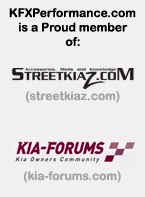 Korean Performance, It almost sounds like an oxymoron kind of statement. Now in our 8th year of building Korean performance parts, we are positioned to make the Korean cars, every bit as amazing and perform as well as their Japanese counterparts in North America.

The KFX Genesis convertible concept

No longer will we continue to see vehicles from other countries rise to the top, but also some of our own endeavors.

Our new catalog, with the help of Jon Kervin of KFX Canada will bring us into the new year. Our efforts will now becoming streamlined with all shipping, ordering and development all coming together in one place.

Our Hyundai portion of the business will bring us to over 1000 parts available for our cars. If there is something out there that we should be carrying and don't, please do not hesitate to ask.

Body Kits - We have a new piece coming out for the 2004.5 thru 2006 Spectras that will add to the lineup

You can get it here

Our land speed test car with new kit in place

The hottest new kit for the Kia Sephia is the RSR Kit, combined with the original KFX rear bumper and skirts, this kit will totally transform your car

RSR for 2nd Generation Sephia

You can get it here

Headers - We have several new headers coming to market as well as refining some of the old ones.

Optima/Sonata 2.4 liter - This is a bolt on system for the 2.4 liter. It takes advantage of the 4g64 design has been test fit to the Optima. You will need to have a slight modification to the flange heading to the catalytic converter. This is something we should be able to get done at any muffler shop.

Buy it here

All BETA 4-1 performance header. This high performance piece has brought us over 10 hp and 12 ft/lbs of torque. The torque has been the nicest addition. We have ample of these in stock. This is a bolt on that clears the stock brackets for alternator. This bolts up to the stock flex pipe and has the needed holes in place for the O2 sensors.

You can order it and have it shipped to your door, typically within 5 to 7 days

Buy it here

This is the header installed in the Optima on the 2.4.

This is the header on the 2.0 in a Tiburon

This [website, or promotion, or advertisement] is not endorsed, sponsored, authorized, or otherwise affiliated with any Kia company including Kia Motors America, Inc., and Kia Motors Corporation. All content, statements, offers, sales and services herein are solely those of KFX Performance."
All contents copyright ©2001-2008 All rights reserved by KFXPerformance.com© - question,comment,concern? bhurlin@kfxperformance.com